RIESE & MULLER
Load 75 Rohloff
RIESE & MULLER Load 75 rohloff features the Bosch eBike System 2 including Cargo Line Motor, Intuvia/Nyon display and up to 1000Wh battery, a Rohloff Speedhub E14 14-speed 36H drivetrain, and the Tektro TRP C 2.3 hydraulic disc brakes.
Bosch Cargo Line | 85Nm torque

500-1000Wh battery | up to 250km range

Rohloff E14 14-speed | Tektro TRP C 2.3
Product description
EVEN MORE SPACE FOR YOUR FREEDOM
Feel the wind in your hair, enjoy the speed, quick stops and fast starting. And take as much with you as you need. This is what freedom feels like. With its low centre of gravity, Riese & Müller Control Technology and a huge loading surface, the Load 75 combines riding dynamics and load options, like no other cargo bike. The strong Bosch Cargo Line Cruise motor delivers hitherto unknown power. And the Load 75 is also extremely reliable, thanks to its high-grade components.
Riese & Muller bikes are custom built bikes made in Germany. Creative, inclusive, innovative is the mission behind all of Riese & Muller's products. This leads to hundreds of different combinations of each bike you can choose from.
Configure your Load 75 model and call or email us your configuration to find out the estimated delivery time.
Geometry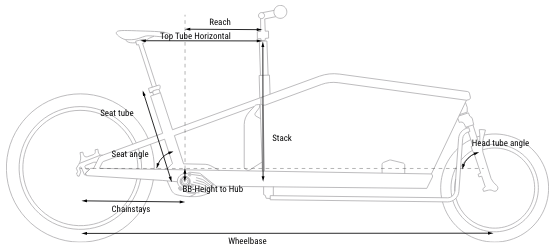 |   | universal |
| --- | --- |
| Top Tube Horizontal [cm] | 59-77 |
| Reach [cm] | - |
| Stack [cm] | - |
| Head tube angle [°] | 70 |
| Seat angle [°] | 68 |
| Trail [mm] | 54 |
| Wheelbase [cm] | 200.5 |
| Bottom bracket height [cm] | 30.5 |
| Stand-over height [cm] | 59 |
| Chainstays [cm] | 46.5 |
| Overall length [cm] | 264.5 |
| Wheel size ["] | front: 20/rear: 26 |
| Head tube [mm] | 85 |
| Front suspension travel [mm] | 70 |
| Rear dropout width [mm] | 135 |
| Gear ratios [m] | 1.67-8.93 |
| Weight [kg] | 37.3 |
| Weight [lbs] | - |
| Gross vehicle weight rating [kg] | 200 |
| Weight rating: Luggage rack [kg] | 15 |
| Weight rating: Handlebar bag/basket [kg] | no |
| Childseat compatibility | yes |
| Trailer compatibility: Single wheel/single attachment point | no |
| Trailer compatibility: Two wheel/single attachment point | yes |
| Compatibility: Tagalong trailer bike | no |
| Top tube height [cm] | 62.5 |
Product information
| | |
| --- | --- |
| Brand | RIESE & MULLER |
| Article code | RIES0003604 |
| SKU | F00757_02031812061709 |
Specifications
| | |
| --- | --- |
| E-BIKE | ───── |
| · Drive unit | |
| · Display/Remote | |
| · Battery | |
| · Charger | |
| · Torque | |
| · Power | 250W |
| · Max. speed | 32 km/h (20 mph) |
| · Riding modes | |
| · Walk assist | Yes |
| · Throttle | No |
| · Sensors | Torque, Cadence and Speed |
| · Approx. range | |
| · Charging time | |
| DRIVETRAIN | ───── |
| · Shift levers | |
| · Front derailleur | |
| · Rear derailleur | |
| · Cassette/pinion | |
| · Crankset | |
| · Chainring/pinion | |
| · Chain/belt | |
| BRAKES | ───── |
| · Front brake | |
| · Rear brake | |
| FRAMESET | ───── |
| · Frame | |
| · Fork | |
| · Shock | |
| · Seat collar | |
| COCKPIT | ───── |
| · Stem | |
| · Handlebar | |
| · Grips | |
| · Seatpost | |
| · Saddle | |
| · Headset | |
| WHEELS | ───── |
| · Front hub | |
| · Rear hub | |
| · Rims | |
| · Spokes | |
| · Front tire | |
| · Rear tire | |
| · Tubes | |
| · Tire pressure | |
| ACCESSORIES | ───── |
| · Pedals | |
| · Front light | |
| · Tail light | |
| · Mudguards | |
| · Rack | |
| · Kickstand | |
| · Lock | |
| · Chainguard | |
| · Others | |
| WEIGHT | ───── |
| - Weight | |
| - Total Perm. | |
| * | * May differ depending on the availability in your country, design or configuration of the model. |
| *** | Due to the problems in the supply chain, resulting from the current COVID 19 situation, the bike could be supplied with modifications. |